---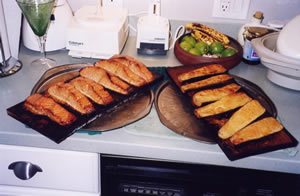 Now that spring and summer are around the corner it's time to start grilling in the great outdoors again. Salmon grilled on a cedar plank is a BBQ style I stumbled across early last year. Apparently it originated with Native Americans cooking their food on water soaked pieces of wood over a campfire. I'll concentrate on salmon below but there are several different woods and fish/meats/vegetables that can be thrown into the mix. Usually I grill salmon along with zucchini slices on the remaining wood surface. But the sky's the limit with this type of grilling. And my personal opinion is…as usual…to use a wood based heat on a charcoal grill. But this can most certainly be prepared on a gas grill…even in your kitchen oven…as well.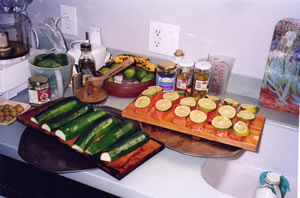 Ingredients
7-8 ounce salmon filets or steaks
Extra virgin olive oil
Cedar plank (you can find these in gourmet food stores. But a piece of untreated cedar from your local lumberyard will work just as well.)
3 or 4 limes
1 zucchini per person sliced in half-length wise

Maple Mustard Glaze
(This is a marinade from the back cover of a package of Sautee Cedar Company cedar planks. It's very good. But a sauce and/or marinade are not necessary. The flavor from the wood is enough alone to make a delicious fish. I include this for the sake of variety and because it's easy and tasty.)
3 Tbsp. Dijon Mustard
3 Tbsp. Maple syrup
1 Tbsp. Balsamic vinegar
Salt and pepper to taste
Mix all ingredients together
Soak a cedar plank submerged completely in water for at least one hour.
Prepare a fire or ready the gas grill (I use a chimney with wood charcoal because it's more natural and the ashes can be composted). You will be using an indirect heat source. So there should be little or no briquettes directly under the cedar plank while cooking. Consequently the fire needs to be pretty hot so adjust accordingly. (Note to Average White Men – don't go overboard with the fire big guy. If you have a good grill you should be able to add more charcoal later if necessary.)
If you are using the marinade, prepare it and place the salmon in a zip lock plastic bag with the marinade and set in the refrigerator for 20 minutes.
Just before the fire is ready remove board from water and pat dry. Place on a cookie sheet and rub a thin layer of olive oil on the top surface of each board. Slice zucchini length wise in half and coat with olive oil. Slice the limes into 1/4-inch circles. Put the salmon skin side down on the planks. Place zucchinis face down on plank. Arrange limes on top of salmon. These will help keep the fish moist while cooking.
Arrange a fire on opposing sides of your grill and put the salmon plank with fish and zucchini in the center over empty space in between. Close cover and wait at least 15 minutes before even thinking about looking at it. A lot of recipes advise keeping a water-misting bottle handy in case the board begins burning. I've never had a problem with this but see note to Average White Men above.) Lift lid and check everything out. The beauty of this recipe is the fish doesn't cook at breakneck speed and make you all hyper about everything coming together at the same time. It's very forgivable, especially with fattier fishes.
Remove the limes from the salmon. Turn the zucchini over and sprinkle Parmesan cheese on top. Close cover and let cook for another 5-7 minutes or when done to your liking. (Keep in mind everything will continue cooking after taking the board off the grill so be responsible about this!!) Serve with a side dish such as rice pilaf. This is a wonderful carefree way of grilling fish. Be creative. There are plenty of variations to consider…shrimp…scallops…alder wood…maple wood…it's grilling anararchy!!!!!