Spring is here! Time to Celebrate the Season with New Wines!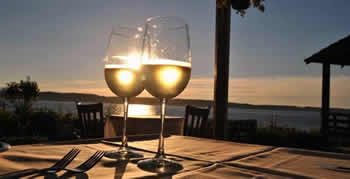 by
Maureen Rooney, Wine Consultant
Siesta Key Wines
Winter is coming to a close and we can finally start to enjoy beautiful spring weather! Pull up a glass and welcome those little spring flowers while sipping some new spring wines. Whenever I think of springtime, the first wine that comes to mind is Sauvignon Blanc. There are so many different styles of Sauvignon Blanc ranging from a mild California to sophisticated French to the boldly pronounced style of New Zealand. Our pick for this spring is The Ned from Marlborough, New Zealand. Every time I drink this wine it just screams seafood! I can't decide if I want to drink it or pour it on my fish! Maybe both. The nose is grassy with bold flavors of gooseberries. This wine is perfect for sautéing scallops and asparagus along with a little butter and fresh herbs. It also is an excellent choice for meatier fish, like halibut, which can be a little dry. Or try a wine reduction with a spring vegetable medley. Another suggestion is to pair The Ned with a rich fettuccini alfredo. Its citric structure will cut through the heaviness of the cheese sauce. Whatever says springtime to you, pair it with The Ned and wake up those taste buds!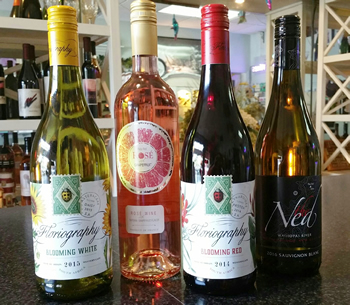 I can't speak of spring without plugging roses'. Yes, that beautifully dry pinky-salmon colored wine that comes from those romantic places like Provence. With American's finally getting into the real idea of roses', without thinking the words "white zin", it's nice to finally be able to share this interest with others that appreciate this style of wine. If you drink roses' then you already know that they are the lighter version of their red counterpart. The best part about roses' is that you can enjoy your"red wine" in any season regardless of the outdoor temperature. Love Grenache? Well you're in luck because most roses' from Provence are mainly Grenache. Cabernet Sauvignon, Merlot, Malbec or Syrah? Yes, they all have rose' wines. and they're not all from France. I know, what is this world coming to? This spring I am going with a completely different type of rose'. However, it is from France, but it's a Ruby Red Grapefruit Rose'. It's like it should be made in Florida! It really does taste like ruby red grapefruit and is extremely refreshing without bitterness. Made of 80% Cotes du Provence Rose and 20% grapefruit juice, this wine is sweeping across France and it pairs with just about any salad or luncheon fare I can think of. Ooh, peas, fresh peas and greens with asparagus tips, feta cheese, pesto aioli and skirt steak. Ok, I'm hungry! This Ruby Red Grapefruit Rose' is also a great accompaniment to writing wine articles, too.
Two other wines I want to mention are organic wines that are produced in the Western Cape of South Africa. Floriography produces Blooming White and Blooming Red are both blends that are perfect for springtime. Blooming white is a delightful white wine made from 50% Muscat de Frontignan, 42% Viognier and 8% Nouvelle. It's soft, floral and fruity aromatics make it a perfect complement to soft cheeses, stuffed artichokes and pate's. I can even see this pairing well with a grown-up grilled cheese sandwich! This wine also stands up well to drink on its own on a bright and sunny afternoon.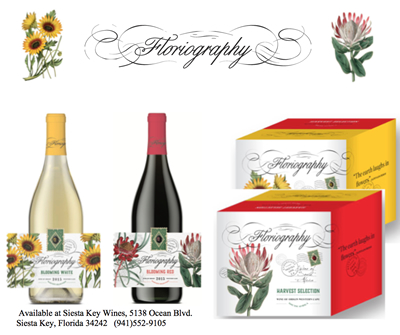 Blooming Red is equally as interesting. This wine has flavors of ripe plums and raspberries with soft but juicy tannins which come with 14 months aging in French oak. It is made of 69% Shiraz, 12% Cinsault, 8% Mouvedre, 7% Grenache Noir and 4% Viognier, and is perfect for enjoying now and for the next 4 years. This wine will be very interesting after 4 years of cellaring, but already knowing how enticing this wine is right now, there is no way I could leave it alone for 4 years. Try this wine with beef, lamb, pork and even duck. Our vegan friends should enjoy this with grilled veggies and spicy foods. Definitely a great value for its complexity and versatility.
If anyone is interested in purchasing these wines but can't find them in your area, give us a call or drop us an email at drinkwine@SiestaKeyWines.com and we can get them for you!
Have a favorite wine we should know about? Share it with us and we'll let you know what we think! Cheers!