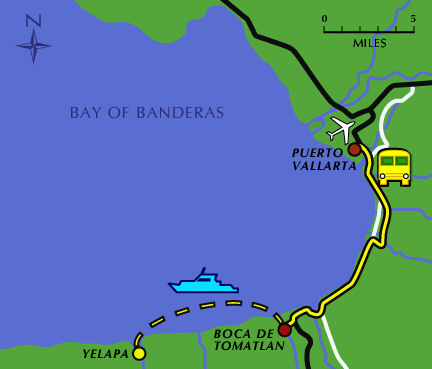 "I Think It Is Possible"
by Judy Kress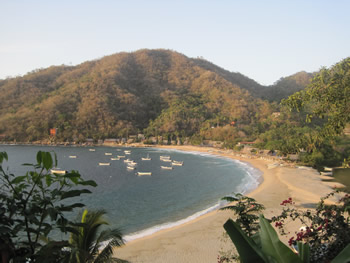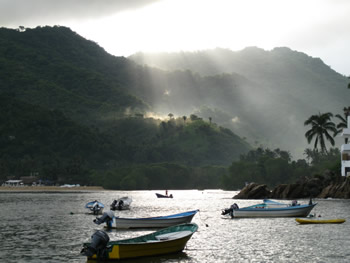 We stood beneath the palapa watching the torrents of rain and the ocean roiling in Boca Bay. The ponga had been loaded with 1000 pounds of tiles, cement and grout and had been bailed out in preparation for the 30 minute trip across Banderas Bay to the village of Yelapa – but, the driver, Angel, was afraid to go through the turbulence created by the overflowing river that was pouring out of the mountains into the small bay. Although the skies were clearing when we set out in the early morning hours, a storm came down from the mountains and the skies opened in mid- afternoon for a downpour that was relentless. The previous night it had rained heavily for 10 hours. Four boats sank in the bay of Yelapa because the owners failed to go out enough times to keep them bailed. Now, we had to get back to Yelapa before dark so that the construction materials – enclosed in garbage bags and covered with tarps - could be unloaded on the beach and taken to mi casa. The boat was again taking on water. We were soaked to the bone and I recognized that little prepared me for this shopping adventure in Mexico. Had I known that the closest comparable life experience to this day was riding the Twin Flip at the state fair – only in an open boat with no seat belts in the middle of an ocean bay, I might have reconsidered my trip. The ocean didn't look so bad to my landlubber's eye, but I was wise enough to read the concern in everyone's face and feel fear. Suddenly, Angel shouted, "I think it is possible." and took off running toward the dock. As I ran behind, I shouted to Rangel, a cousin, through the pounding rain, "Does "possible" mean we're going to make it?"
But I am ahead of myself. Had anyone told me ten years ago that I would one day have a house built in a small fishing village in Mexico, I would have wondered what they were smoking. My daughter, Lindsey, who had often informed me she would never marry or have children, but rather, would spend her life traveling and creating art, took a life changing vacation. Recently graduated from the California College of Art and Design, she had already traveled to France to study art and taken a week long solo trip to the national parks in Northern California.
So, when she called from her home in the East Bay to tell me she and a friend were heading to Mexico for two weeks, I was not surprised. When she called two weeks later to say she was staying an extra week, could I send a rent check to her roommate and wire her money, (she had given me access to her checking account in case she needed money aboard), and I took it in stride. The second call, the second week, the third call, the third week…….well, I was the mother and I did begin to wonder. Then, she mentioned "love" and her life (and mine) took a new direction. A little more than a year later, I had a son-in-law, a beautiful granddaughter and new possibilities.
My first trip to Mexico was in the spring of 2002 for my granddaughter's baptism. I flew into Puerto Vallarta and took the bus to La Boca De Tomatlan where I met up with several of Lindsey's friends, enjoyed margaritas on the beach, and took the water taxi to Yelapa.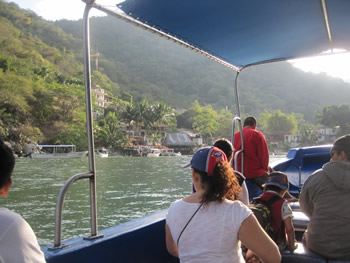 When my children were young, we spent several summer vacations on Fire Island (off Long Island), which can also only be reached by boat. Though the comparison between these two ocean communities probably ends there, I recognized that the love of beautiful, isolated beaches was planted early in my children's hearts. And mine.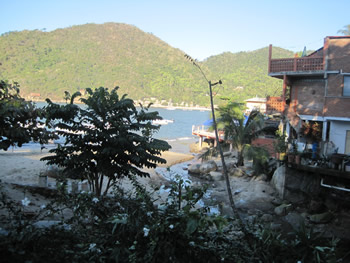 That first visit, I stayed at tia Rosa's casa on the bay. The view overlooking the Pacific, the sound of waves lapping on la playita, Mexicana musica echoing through the Sierra Nevada foothills and the gracious people of the pueblo were all it took for me to know that I too now had a new favorite place on the planet. It was no surprise that, although Lindsey and her new family had returned to live in California, they wanted to buy land in Yelapa and Pizota (a neighboring village). I agreed to help, with the promise that one day I could build a house there too, to either retire or rent for retirement income. It was a dream we shared…….however, the adventure of making that dream happen turned out to largely be my own private escapade.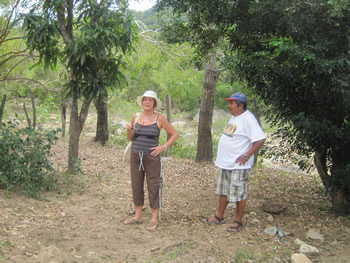 My fourth trip to Yelapa, in February 2010 was made to revisit the Yelapa property, locate and engage a contractor, and plan the construction of mi casa on a beautiful piece of upriver land – in one week in a country with entirely different customs where most of the people spoke a language I did not know beyond the basic greetings. Fortunately for me, I stayed at the home of a cousin who spoke English, my daughter's in-laws lived close by, and nearly half the people in this small pueblo (village) were related to us – or so it seemed. All of this made it easier for me not to feel the "outsider". I had been back to Yelapa a couple of times over the years, knew my way around, and understood I could fulfill life's basic needs with my limited Spanish……..and my hosts' knowledge of English, but, taking on the construction of a home was, shall I say, a major challenge.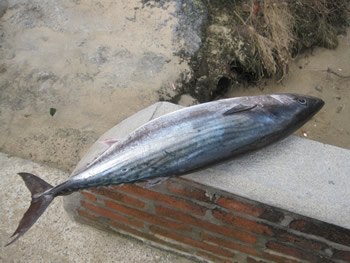 Allow me to digress a moment here. I have not traveled broadly in Mexico (or within or without the states), but I believe, from what I read and see in the media, that Yelapa must be one of the friendliest places on the planet. My experience in Mexico is limited to Yelapa and Puerto Vallarta (made famous and popular by The Night of the Iquana and now one of the five most popular foreign cities for American's to retire according to AARP). The people of Yelapa, though mostly poor, are kind, generous, and helpful. Unlike my experience in the states, poverty has not made the residents of this community angry or unhappy. Maybe it is the beauty and bounty of their surroundings (fresh seafood daily, just toss out your line), maybe it is their nature, or maybe it is the close fellowship with their neighbors. In a place where 200 pesos (about $20) is the standard daily income, 90% of the population has found some way to earn a living from those who come to share the beauty of their pueblo for a day, a month, a year or longer. In Yelapa, the family business can range from selling jewelry or clothing on the beach, to getting tourists to take photos with an Iguana, to attaching a restaurant, store, or rental casa to your home. Everyone wants to help – many for a tip because helping tourists is their way to get food for the family that day. To most, we are rich, simply because our airline ticket is a month's income for them. But even your "no gracious" is respected and accepted.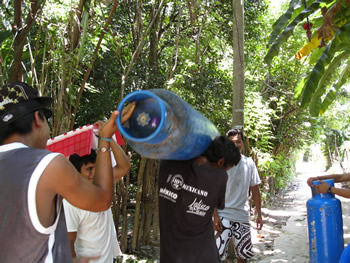 On my journeys to construct a house, it has often been difficult for some in Yelapa to understand that while it may appear to them that I am "rich", by my own estimate with my income and cost of living in the states, it was very important that I stay at all times within the limited budget I had set to accomplish my goal. Nonetheless, in the beginning, I inadvertently over tipped, giving the impression I "had money". Paying someone $10 to carry heavy goods on their back a mile up river was, unbeknownst to me, twice the expected rate. And though I was happy to over tip in this regard, it lead to expectations in other ways that had me constantly saying "no gracious" to offers to plant a garden, paint, build a fence, or any number of other tasks I had not yet envisioned. These jobs were not in my budget. I "do it myself" at home and I will "do it myself" in Mexico as best I can. I understand it is neither understood nor perhaps even appreciated, but it is what makes it possible.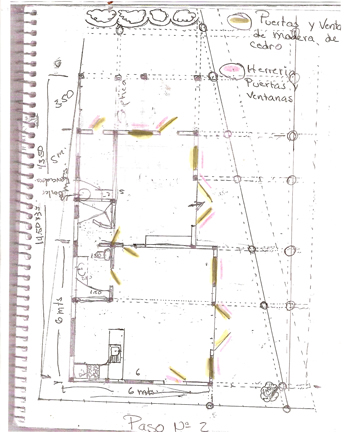 So, on that first "house building" trip, I asked everyone I spoke with to recommend a contractor and in the end came up with two names: an uncle and a friend of the family. With the friend, we sat around the family table with my son-in-law on the phone - translating my wishes and questions regarding the house. I understood one tenth of the conversation and it was only my 100% trust in my son-in-law that made me comfortable with the situation. For the uncle, I went to his home with a cousin I had met in California – a native Yelapan who speaks excellent English and the uncle, who also spoke some English. After our conversations, I went to houses each man had built and asked more questions of locals about their work. I talked often to both over the week and went back to the states to make my decision. In the end, I selected the uncle – who had often been described to me as a "natural engineer". He had built houses in the states, understood my plan and my expectations, had some English, and he was willing to build the house I had designed within the budget I had set. All of that and we just got along.
---
PART 2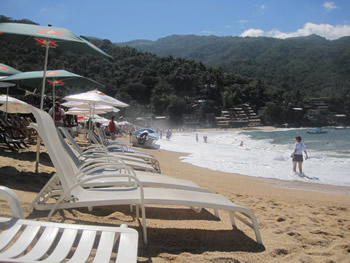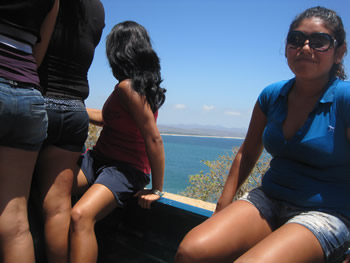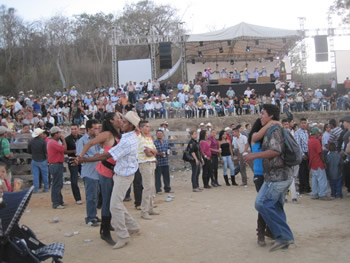 I understood when I took on having a house built two thousand miles away in a foreign country that it would not be exactly as I envisioned it. This is especially true since there were no blueprints, no engineering plans, no architects, no building department, no city codes and typically, no written contracts. I insisted on a contract which I had translated to Spanish – which was a good thing in the end – and we relied on the plan I drew. Were I to do it again, I would have found someone who knew about construction in Mexico to review my plan, but, in the end I have a wonderfully constructed casa and is very close to what I envisioned and probably within code if there was one. I'd only make a few changes if I could go back and do it again – like fewer doors exterior doors and a couple of interior ones.
On my second trip (in May 2010), we signed contracts, selected building materials, reviewed and agreed on details. I actually had time to go to the beach, take Spanish lessons, and visit with family. I even took a most frightening two hour ride in the back of a pickup truck – "Mexican style" - with several young cousins at 50 MPH on a one lane curving dirt road through the mountains and high over Yelapa to Tegua Bay and a rodeo featuring three of Mexico's most well known Mexicana bands. That I came back in one piece remains a miracle in my mind – but I did laugh hard, enjoy the incredible scenery, see a talented horse dancing, and almost get up enough nerve to dance baile Yelapa.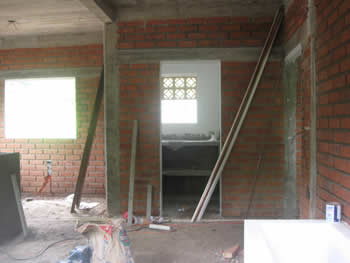 As construction on the house began, so did my trepidations. How could I possibly be spending a large share of my savings on a house in Mexico? How could I be having a house built and not be present? Had I selected the right person? Would it be anything like what I had planned? Would I live there? Would I find renters? I had the cousin send me pictures. It helped. I learned the contractor had a contractor son in California who soon became our "go between". It was a godsend. Questions were asked and answers given in clear English with little delay and the questions were good ones that I was glad were being asked. Time flew by and the next thing I knew it was September and I was heading back to Yelapa to see the house and buy tiles, ceiling fans, outdoor lights, plumbing fixtures, and other decorative construction materials – during the rainy season (June to September).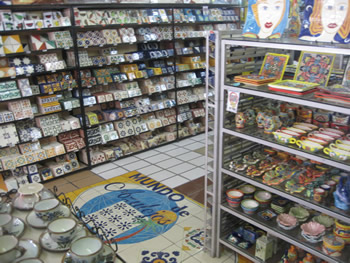 People are surprised to learn that Puerto Vallarta has a Sam's Club, Home Depot and Walmart. I checked them out of curiosity and did a little shopping at Home Depot, but mostly I shopped in local Mexican hardware, appliance, tile, and lighting stores. I was surprised to see how many of the items I purchased were made in the U.S.A. The ceramic tiles and sink, however, were not only made in Mexico, they were hand painted in the store where I bought them – painted to order. I met an American couple while shopping who told me they were buying tiles for their house in Florida and that purchasing them in Vallarta and having them shipped to the states – in spite of their weight - was cheaper than buying them in the states. Very tempting.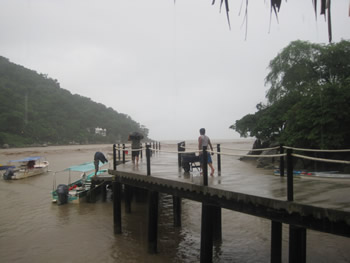 So, yes, we headed out to shop in PV on a beautiful sunny day, after a huge rain. We went to Boca, took the bus to Vallarta, met up with a cousin with a truck and went shopping. Three stores and a truck load of tiles later, it began to sprinkle. I sent the cousins off to buy a tarp. The skies opened up and within a few minutes the streets were running with water. It was the end of the rainy season. The creeks and rivers were full. When they came back with the tarp, we headed to the local discount store for garbage bags for the cement, grout and boxes of tiles before going to the loading dock. By the time we headed back toward Boca and the boat, the water in the streets was a foot to two feet deep (which solves the mystery of two foot high curbs with steps in downtown Vallarta). Cars were stranded in ditches and as we headed out of PV, we made our way along a two lane road that went straight down to the ocean on one side and straight up the hillside on the other. We passed two rock slides (boulder slides) before arriving at our destination, happy to see the boat was still above water, but struck by the waves roiling in all directions in the bay. (My son-in-law later told me that he learned to surf on such waves). The men started unloading the truck and used wheelbarrows to rush the building materials down the dock to the ponga. I will admit that, soaked to the bone and hungry, (having turned down the various street vendor meals the men purchased during the day), I went to the beachside restaurant and asked for "a margarita and anything you can make quickly to eat!" The second best part of that day was the pollo fajitas and that margarita which I think got me through the next twenty minutes. And then, I faced the roiling bay and the trip back to Yelapa on the boat in a downpour.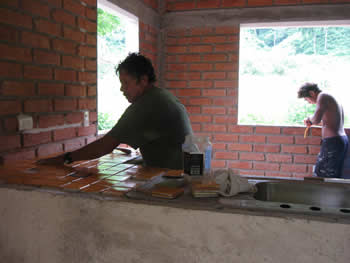 Once we were aboard the boat, Angel directed us to sit at either side centered between the bow and stern and the full load of tiles, concrete and grout. He stood at the back, gunned the motor and headed full speed straight into the waves that were going in every which direction. We rolled up to my right – perfectly sideways – and I wondered if tiles could be recovered from the bottom of the bay. We rolled up to my left – perfectly sideways – and I wondered if I could jump free of the load and swim to the shore. We rolled again to the right – and I thought of my kids and grandchildren. And then, we were out of the every which way waves and headed into the open bay hoping we'd get to Yelapa before taking on too much more rain. I should also say were laughing with relief and hysteria. Yes, it was possible. We made it – the best part of the day. We were soaked and exhausted, it was still pouring rain, but we made it and so did all the building materials. Bright and early the next morning, the workers were busy installing tiles in the kitchen and bath.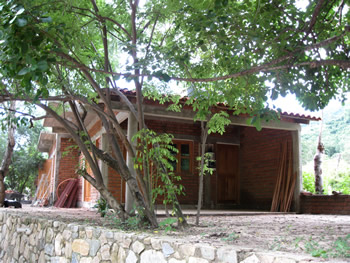 And, yes, it was possible to build a house I love two thousand miles away in another country where I don't speak the language without fretting over every brick or nail. It is possible to trust and believe it will be ok and it is.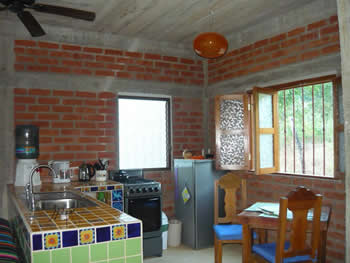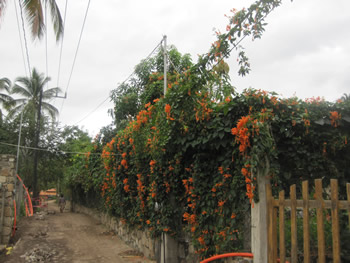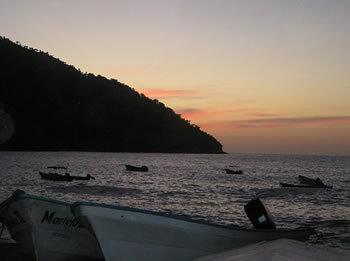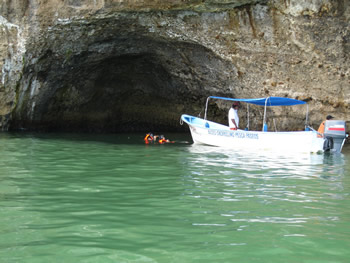 I returned in October 2010 to a finished house that I have named Casa Irene, after my mother who was, in several ways, responsible for its existence. I spent the week in my new casa, went shopping for furniture and household items, cleaned, ordered telephone and internet service, and put Negro Modela in my new refrigerator. I fixed a meal on the stove, hung curtains while waiting for the bathroom doors to be constructed, and listened to the quiet. I learned that while I do not have an ocean view at mi casa, I have only one neighbor. I can listen to the river running through the rapids 20 yards beyond my front door, watch a dozen varieties of butterflies fly around (even in and out of) mi casa, and hear bird song all around. I can take a three minute walk to a great restaurant owned by an uncle and a 20 minute stroll to the ocean beach (picking bananas and lemons from the trees as I go). I can take an hour walk into the foothills of the Sierra Nevadas to a 50 foot high waterfall and swim in the pools below. For any or all of eight months out of the year, I can enjoy perfect temperate (rain free) weather or enjoy the benefits of the rainy season in the other four. I can take a day trip out into the bay and watch whales and porpoises passing by deserted islands, snorkel in crystal clear waters to watch exotic fish, lie in my hammock reading Best Bites by Rick Brown, or just wondering at the possibilities.
And, I can share those possibilities with others. Thanks to my son, Blake, you can learn more about Casa Irene and Yelapa at www.casaireneyelapa.com.