Pot Luck Guide to the 134th running of the Kentucky Derby.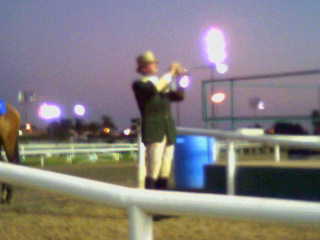 This year's edition of the Kentucky Derby figures to be one of the most wide open ones in a long time. The favorite right now appears to be Big Brown, a very lightly raced 3 year old trained by Rick Dutrow and ridden by two time Derby winner Kent Desormeaux. But the favorite has changed so many times for this race, it's hard to know what to think. I like him, but a lot of his appeal comes from the fact that he is one of the few horses likely to run that hasn't done anything wrong. Several horses appear capable if they run their race and get a little luck.
The Kentucky Derby is the premier race for three-year olds, with a guaranteed purse of around $2 million. Trainers and owners live their lives hoping to get to the Derby, to have the animal that will bring them the money and, probably more importantly, the glory of winning this prestigious event. So how on Earth did we get to the point where a colt with only three races--and only one stakes win--under his saddle is the favorite?
It does have a lot to do with the horse himself. Anyone who watched his win in the Florida Derby had to be impressed. He broke from the furthest post, #12, meaning he had the longest amount of distance to cover in a race that is already being run at a mile and an eighth. Yet this proved to be little problem for him; Desormeaux quickly got him to the lead and he literally was never bothered from there on, winning by five lengths in a reasonable 1:48.16 over a field of seemingly serious contenders and appearing to have plenty left in the tank as he bounced around the track afterward. And then there's the confidence of Kent Desormeaux, who calls Big Brown "A major talent, possibly the best horse I've ridden." Hyperbole? Maybe, but Desormeaux knows something about the Kentucky Derby, having won the race twice--first in 1998 aboard Bob Baffert's Real Quiet and in 2000 on Neil Drysdale's Fusaicihi Pegasus
The other half of the equation is that a lot of the other contenders have tarnished their records as the Derby preps have been run. War Pass looked unbeatable as a two-year old for trainer Nick Zito, but even if he hadn't have suffered a foot injury that will keep him on the farm for a couple of months, his fading, second place finish to Tale of Ekati in the Wood Memorial at Aquaduct following a horrible, off the board effort in the Tampa Bay Derby would've made it hard to support him for the Roses on the first Saturday in May. His long time nemesis, the Steve Assmussen trained Pyro, had seen his stock rise with several good closing victories in prominent races until he threw in a real stinker in the Blue Grass Stakes in Keeneland, finishing near the back of the pack and never threatening. That said, since Keeneland switched to an artificial surface a few years back, the Blue Grass has been a very difficult race to read going into Churchill Downs. I certainly don't think the winner Monba, from the megalithic Todd Pletcher stable, will be a big factor on Derby Day, but I think Pyro may like the return to a dirt surface. I'm not tossing Pyro at this point--anybody can have a bad day, especially on an unfamiliar racing surface like the polytrack in Lexington.
In Southern Cal, we race on the fake stuff, too. It's supposed to be safer for the horses, though the data is not altogether conclusive. In any event, horses that are used to the artificial surfaces don't seem to have the same trouble adjusting to good old dirt as those going the other way do. Trainer Paulo Lobo sent Gayego and rider Mike Smith from Santa Anita to the Arkansas Derby at Oaklawn a couple of weeks back, and there appeared to be no problems running on dirt there. The Arkansas Derby has produced a number of horses that distinguished themselves in Triple Crown events over the years--last year's Preakness (and Breeder's Cup Classic) winner Curlin, 2004 Derby and Preakness champ Smarty Jones, 1998 Belmont winner Victory Gallop, and on and on. You have to take a look at Gayego in there as well. Smith is no stranger to the winner's circle at Churchill Downs, either, having piloted Giacomo home at odds of 50-1 in 2005 for trainer John Shirreffs.
The last horse that I think merits serious consideration for the 2008 Kentucky Derby is Colonel John; as of this writing, the Associated Press has the Eoin Harty charge #2 in its rankings behind Big Brown. He and a horse named El Gato Malo have been considered more or less the class of this year's three year old crop in California. El Gato Malo was initially the favored of the two, but after successive wins in head to head competition--the last of these being the Grade I Santa Anita Derby--Colonel John surely seems the classier of the pair.
But just about anything can happen between now and May 3rd. Bucking the recent trend, a few of the top twenty three year olds (as ranked by purse money earned) figure to skip the race. Perhaps emboldened by Rags to Riches' great win in last year's Belmont Stakes, the connections of the fillies Proud Spell and Eight Belles are considering taking a shot against the boys in Kentucky. It's unclear exactly which twenty horses will be lining up. And, if we've learned nothing else from Derbies 132 & 133, we know that post position is crucial. Barbaro was a wonderful horse, but if he traded his comfortable post eight for Brother Derek's fair outside #18, we would at very least have had a much more competitive race than we saw. Likewise, Curlin managed to beat Street Sense in both of their post-Derby meetings en route to being named Horse of the Year. Take nothing away from the magnificent ride Street Sense got from Calvin Borel in Derby 133, but Curlin was pretty much eliminated from winning the race the minute he drew post four.
So what am I going to do on Derby Day? Well, I'm going to go to Hollywood Park, watch the Derby on simulcast and then see my horse Uffizi run in the Grade III Inglewood Handicap in person, and I'm going to drink some bourbon. Oh, and as far as betting? Well, these are the horses I like: Big Brown, Colonel John, Pyro, and Gayego seem to me the mostly likely to win it all, and in something like that order. If any of them are drawn way to the inside (lets say posts 1-5) or far on the outside (16-20), I'll probably toss them at least as far as on the win end, though any of them are eligible to finish in the trifecta. Tale of Ekati, if his odds are sky high, I'll have to take a look at him. Really, his only bad race was the Louisiana Derby, and that was off a long layoff. His jockey, Edgar Prado, won with Barbaro and his trainer Barclay Tagg won with Funny Cide. I watched the Wood from the rail, though, and wasn't really blown away. I think he's an exotics factor, but things would really have to break in his favor for him to win. I think Pyro's race on the polytrack is a complete toss-out, and he may be the value play if his odds are 6-1 or better. Gayego will have good odds, maybe 25-1 or better. Barring a bad placement on the track, Big Brown seems a deserving favorite. He's won his three races by a combined 27 lengths! But he's only raced three times. Class is still a serious question. He beat a tough group at Gulfstream Park in Florida, but Pyro, for example, has run first or second in four stakes races. Ultimately, I keep coming back to what I saw in Florida. Visually, it was a beautiful, seemingly effortless win. And then there are Desormeaux's comments. If you take him at his word, you have to take Big Brown very seriously. But to ask a horse that is so lightly raced to go a mile and quarter really seems like a lot, so I'd hate to take a short price like 3-1 on him. Good luck whatever you do on May 3rd!